---
Atlantic Fastfalls Spillways
Incredibly strong one-piece spillways diffuse incoming water flow to create the starting point of streams or waterfalls. Designed to make plumbing as easy as possible. Innovative rear liner attachment simplifies installation and eliminates leakage due to settling. Crush proof design with internal baffles stabilized by support cones carries the weight of the largest rock and stone. FastFalls can be covered with rocks, gravel, soil or mulch to blend seamlessly with surrounding landscape. Fastfalls include installation kit, male thread adapter and one piece liner flange.

SP1600 FastFall

16" Wide Spillway

Max Pump Flow 3000 GPH

1.5" FIPT inlet

16.5"W x 9.5" D x 7.25"H

$122.99
Atlantic Colorfalls
Introducing the first lighted weir specifically designed for water features. A perfect fit for formal retaining walls and pond-free applications. Colorfalls add a breathtaking new dimension to any water feature. Colorfalls produce a sheer of lighted water emerging from a concealed source inside vertical walls. They adapt to any wall material- pavers, tile, brick, stone wood, etc...Colorfalls offer shimmering water flows in white or blue hues. You'll be able to enjoy the beauty of your water feature day or night with Colorfalls.
Colorfalls cannot pass solids - water must be filtered. Replaceable LED light bar is available in 3 hues. Colorfalls feature a 5" lip, 30' power cord and includes a 12 volt outdoor transformer. Pump must be purchased seperately. Color options when you add to cart.


Ice Blue Colorfalls

Crystal White Colorfalls

SOL White Colorfalls




CF12 - 12" Colorfalls

Flow Rate 1000 GPH

Color options: Ice Blue, Crystal White, & SOL White

1.5" FIPT Inlet

3 Watts/ 12 Volt AC

12"W x 8"D x 3.5"H

$171.87

CF24 - 24" Colorfalls

Flow Rate 2000 GPH

Color options: Ice Blue, Crystal White, & SOL White

1.5" FIPT Inlet

6 Watts/ 12 Volt AC

24"W x 8"D x 3.5"H

$257.81
Atlantic Color Changing Colorfalls
Color Changing Colorfalls is the only modular sheer decent system with multiple light and configuration options. Color changing falls feature a 5" lip and 20' power cord. They include an outdoor transformer and a remote control that offers 18 different color modes. Modular body style offers multiple inlets for maximum plumbing flexibilty. Generous weir openings reist clogging and create a thicker, fuller sheer for extra color and less wind deflection. Designed to install easily in any wall, indoors or out, whether stone, brick, block, stucco, tile or wood. Optional control module (sold seperately) allows to syncronize up to 5 units in custom displays.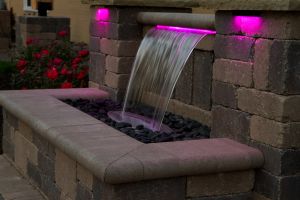 CC06 - Color Changing Falls

6" Waterfall Width

Flow Rate 600 GPH

1.5" FIPT inlet

6"W x 8"D x 3.5"H

$230.00
Atlantic Basins & Accessories
Atlantic's spillway basins feature a pre-filtered pump chamber, one piece construction and built-in plumbing channels to create a perfect reservoir for formal spillway projects. Add an optional splash mat to reduce splash, conserve water and ensure your pump remains submersed at all times.





Complete Basin Kits

Basin Kits provide everything you need to install Colorfalls, Water Walls and Spillways. Three sizes of self contained basins, paired with pumps and plumbing to accomodate 12, 24 and 36" formal spillways. Seamless installation with four inch garden blocks. Basin Kits include basin, splash mat, pump, plumbing, pvc spray glue, adjustment valve and auto fill.




---